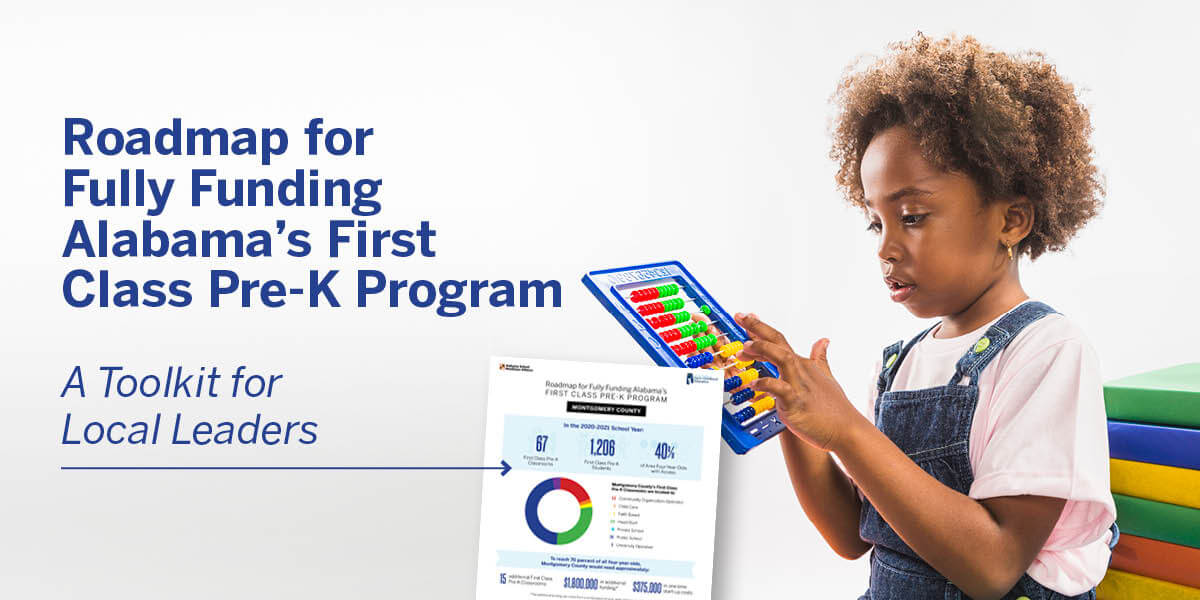 Introduction:
Young children had some of the biggest disruptions in their learning and care throughout the pandemic. Our new toolkit is designed to support mayors, city and county officials and local school systems in utilizing American Rescue Plan funding (and other sources) to help children get ready for school. 
The American Rescue Plan (ARP) of 2021 provides $779 million for Alabama cities, $951 for Alabama counties and more than $2 billion for public education in Alabama. The plan also includes a historic $40 billion nationally to support America's child care industry as it struggles to serve children and families during a pandemic.
We launched this toolkit on April 30, 2021 with a webinar, Utilizing American Rescue Plan Funding to Accelerate Early Learning. Click here for the webinar recording and related resources.
How to use this roadmap: 

Alabama's First Class Pre-K program has been nationally recognized for its quality, but current state funding only allows the program to serve 37 percent of the state's four-year-olds. Students who attended Alabama's First Class Pre-K program have been followed in long term studies and found to perform better in reading and math than their peers. Low income students and students of color see the largest gains.
We believe all Alabama children should have access to First Class Pre-K. Seventy percent is the percent of four-year-olds we estimate each community needs to reach for every family interested in participating to enroll in the voluntary program. That is why our new county profiles, below, provide a roadmap for how to get to at least 70 percent access in your community. The funding needed can be local, state or federal – and we are advocating for a plan to increase state funding annually in order to reach 70 percent of four-year-olds by 2025.
We encourage local leaders to invest one-time American Rescue Plan funding to provide matching funds for state First Class Pre-K grants, help with startup costs for organizations seeking to establish First Class Pre-K classrooms,  and to help child care programs and other preschool providers make quality improvements so that they can become First Class Pre-K providers.
County Profiles:
Below, we have included county profiles for all Alabama counties that have fewer than 70 percent of their four-year-olds in the Alabama First Class Pre-K program.
Once you have looked at your county profile, don't stop there. Use it to start a conversation, convene stakeholders, and develop a plan to fully fund pre-k in your community. Advocates from the Alabama School Readiness Alliance are here to help. Contact us today! 
In the 2020-2021 school year, the First Class Pre-K program in Butler, Conecuh, Dallas, Hale, Marengo, Pickens, and Wilcox Counties reached more than 70 percent of that county's four-year-olds, and are not included in the table above. For more information about the number of classrooms and children reached in these counties please contact us.