Students across Alabama returned to the classroom this month for another school year likely to be defined by the Coronavirus. However, for more than 25,000 Alabama First Class Pre-K students, this month marked the start of their entire school experience, and no mask could hide their excitement.
Also entering First Class Pre-K for the first time this month were a few hundred lead and auxiliary pre-k teachers joining the program due to the state's continued push for expansion. Tara Marie Nixon is one of those teachers.
Before becoming an auxiliary teacher at Common Ground Montgomery, Tara worked in various child care programs throughout the Montgomery area for more than a decade. However, at the beginning of the pandemic, she was one of many early educators laid off across the country.
It was during this period that Tara learned about the T.E.A.C.H. Early Childhood ® ALABAMA Scholarship program. T.E.A.C.H. is a scholarship program for early childhood education and child care workers who wish to increase their level of education and effectiveness in the classroom. T.E.A.C.H. provides scholarships, one-on-one counseling, and resources to help recipients obtain a Child Development Associate Credential (CDA), an Associate's Degree in Child Development or Early Childhood Education, or a Bachelor's Degree in Child Development or Early Childhood Education.
Upon her acceptance to the program, Tara was matched with a mentor and received assistance to purchase a CDA workbook. Tara quickly learned that her previous in-classroom experience and accrued professional development hours qualified her for a CDA –  the credential required to be an auxiliary in First Class Pre-K. No additional coursework was required, and Tara's mentor helped her apply for her CDA. It wasn't long before Tara found her new job at Common Ground, which carried with it a substantial pay raise.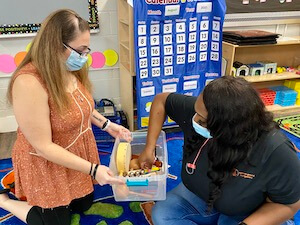 Tara now works alongside long-time First Class Pre-K lead teacher Lasara Arant, and the two have already developed a close bond and rapport.
"I feel like Lasara and I have been teaching together for 20 years," Tara shared after less than a week in school. "Our energies are perfect together. We're so cohesive in the classroom. It's just a beautiful relationship."
After meeting the coach assigned to her by the Alabama Department of Early Childhood Education, Tara has a new career goal. She wants to become a First Class Pre-K coach too – a dream that the T.E.A.C.H. program can very likely help Tara turn into a reality.