NEW! Resources on First Class Pre-K for child care providers
Community Pre-K Toolkit
Alabama's state-funded, high-quality First Class Pre-K program is expanding! Below, we outline three major steps that local communities can take to become leaders in providing access to this program. We have also listed some examples of successful local pre-k initiatives below. 
Contact the Alabama School Readiness Alliance
 for assistance implementing these strategies in your community.
Start by pulling together all the relevant stakeholders. Is there an existing county-level Children's Policy Council, local chamber of commerce or community education foundation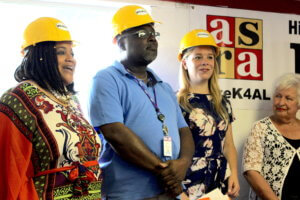 that you can work with to convene partners? Also consider inviting representatives from the following stakeholder groups: child care, Head Start, local school systems, local and state government, philanthropy, colleges and universities, parents and business leaders.
Once you have pulled together interested and relevant stakeholders, share the data on pre-k access in your community. You can find the percentage of children served by Alabama's state-funded, high-quality First Class Pre-K program by county, as well as the total number of four-year-olds in each county, in the Kids Count Data Book published annually by VOICES for Alabama's Children.
2. Decide On A Pre-K Access Goal And Timeline
Once you have gathered stakeholders and assessed pre-k access in your community, it's time to set goals for pre-k expansion. 
How many years will it take to reach your access goal, and how many additional First Class Pre-K classroom grants can your community reasonably apply for each year? Discuss how you want the classrooms distributed in a mixed delivery system to maximize parent choice (First Class Pre-K can be provided in public schools, child care settings, nonprofit community programs, Head Start and other settings).
Spread the word: Raise public awareness of the importance of pre-k (and your goal for pre-k expansion) through local media events, opinion-editorials, and social media.

Maximize pre-k expansion through your local school systems: Meet with local superintendents and school board members to find out how many First Class Pre-K classrooms can be added in your local public schools.

Assist community-based providers with applying for First Class Pre-K grants: Local child care centers, preschools, nonprofits (such as YMCAs and Boys and Girls Clubs), private schools, university lab schools and Head Start providers can all apply for Alabama First Class Pre-K grants just like public schools. They might need a little help getting familiar with First Class Pre-K guidelines and navigating the grants process. Consider hosting a forum for local early childhood providers and community groups to share information about First Class Pre-K. In Central Alabama, the Bold Goals Early Learning Action Network went a step further and provided on-the-ground technical assistance to child care centers applying for First Class Pre-K funding.

Identify additional sources of funding: All types of providers may need help with startup or quality improvement costs before applying for Alabama First Class Pre-K grants from the state. And, your local providers may also need help raising and sustaining the local matching funds (25 percent) required for First Class Pre-K grants. Once you have determined the need (and set a goal) for local pre-k funding, ask local businesses, private foundations, and your city council or county commission to chip in. Or, as the Birmingham School Board did, you can even take the matter to the ballot box to ask voters to approve additional revenue.
Examples Of Community Pre-K Initiatives
Tuscaloosa Pre-K Initiative
The Tuscaloosa Pre-K Initiative began in 2005 with a local Pre-K Task Force appointed by Mayor Walter Maddox and the City Council. The Task Force established partnerships between the City of Tuscaloosa, The University of Alabama, Stillman College and members of the Tuscaloosa business community and evolved into the Tuscaloosa Pre-K Initiative, which now serves four-year-olds in 26 pre-k classrooms in the Tuscaloosa City Schools. The classrooms are supported with a combination of city, federal and state investments, including more than $140,000 that has been raised over the years through the annual Mayor's 5K for Pre-K.
Morgan County Starting Strong
Starting Strong is a collaborative, community-wide initiative focused on expanding access to quality pre-k programs and increasing the availability of kindergarten readiness information for all families throughout Morgan County, Alabama. Starting Strong is a partnership between the Decatur-Morgan Chamber of Commerce, Decatur-Morgan County's Minority Development Association, The United Way of Morgan County, the Community Action Partnership of North Alabama, local school systems and community-based pre-k providers. The team advocates, applies for First Class Pre-K grants and fundraises to expand access to high-quality pre-k all children in Morgan County. 
Bold Goals Early Learning Action Network
The Early Learning Action Network of Bold Goals Education works to ensure all children are ready to learn when they start kindergarten. To achieve this goal, the Early Learning Action Network is helping more children in Jefferson, Blount, Walker Shelby and St. Clair counties gain access to Alabama First Class Pre-K Classrooms through a community-based expansion project.
Through this project. the Network is supporting private child care providers in applying for First Class Pre-K grants. To date, ELAN has helped 11 childcare centers raise their standards to earn First Class Pre-K status. As a result, 198 more children now have access to the highest quality Pre-K in the nation – right in their own neighborhoods, year after year. 
Montgomery Education Foundation
The Montgomery Education Foundation (MEF) supported and coordinated the development of 21 high-quality pre-k classrooms across the county. Through MEF's advocacy and support, a unique model was created that brought a variety of pre-k providers together in partnership to provide high-quality pre-k utilizing the state's First Class Pre-K standards and guidelines. Partners included Montgomery Public Schools, First Class Pre-K, Head Start, Success By Six, the Family Guidance Center and the Montgomery Area Chamber of Commerce. In 2015, MEF began hosting a series of forums to exchange information about First Class Pre-K with prospective providers from the community's private non-profit, for-profit and faith-based preschool providers.
Orange Beach
After finding out that no First Class Pre-K program existed in her community, Orange Beach parent Jeanna Bulman worked with a coalition of local parents and city officials to successfully submit an application to bring a First Class Pre-K classroom to Orange Beach Elementary School. Bulman worked closely with the Alabama School Readiness Alliance to advocate for the $10 million increase in state pre-k investments that made pre-k expansion possible in 2015. The city agreed to provide matching funds for Orange Beach Elementary's First Class Pre-K classroom grant, and the Erie Hall Meyer Foundation and State Representative Steve McMillan provided funding for an age-appropriate playground at the site. The classroom was added in 2015, serving 18 four-year-olds that otherwise would not have had the opportunity to attend a high-quality pre-k classroom within their city limits.